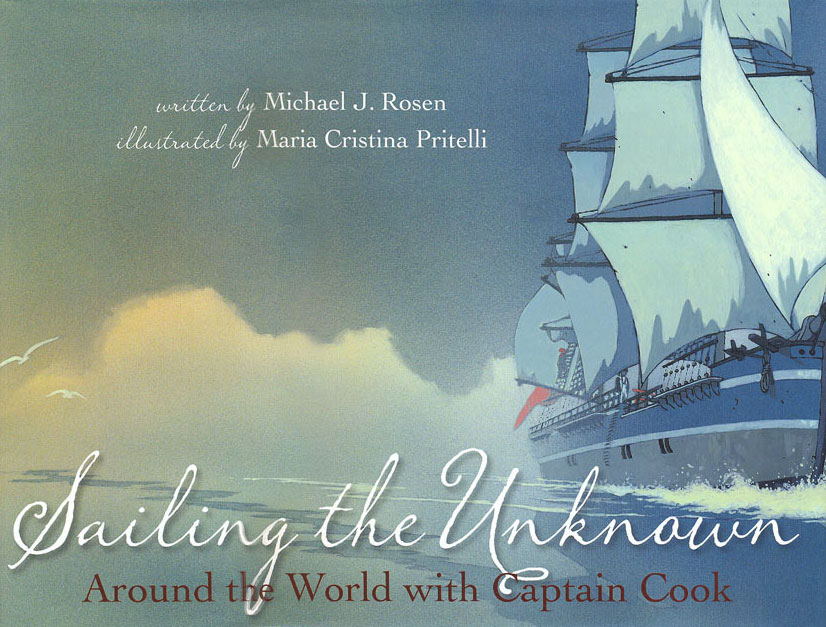 "Nicholas Young, 11, circles the globe in this gorgeously illustrated seafaring adventure loosely based on journals of 18th-century explorer Capt. James Cook.
Seasoned children's poet Rosen here creates the likable character of young protagonist Nick through spare journal entries describing his travels aboard Cook's first ship, Endeavour, which set sail from Plymouth, England, on August 19, 1768, on a voyage of over 1,000 days. A young delinquent enlisted to serve aboard this exploratory vessel, Nick chronicles life as Endeavour's youngest sailor, tasked with menial jobs including care of the ship's milk goat, Navy. The voyage takes Nick and Cook's sundry crew of sailors and scientists to then-uncharted "Australis," stopping en route at the Canary Islands, the Equator—where crew members not having crossed before were "thrice dunked" in the sea—and Rio de Janeiro, as the Northern Hemisphere's summer morphs to the Southern's snowy winter. Further southwest, Nick is the first to spy New Zealand, where the ship is immediately beset by a rain of spears from the local Maori. Throughout this exotic discovery tale, Pritelli's finely wrought acrylics capture both the action and the otherworldly allure of strange lands, peoples and endless sea by casting them often in a milky blue, deep and mysterious as Picasso's.
Visually stunning and packed with sophisticated language and intrigue, this young sailor's log is sure to hook any budding explorer".
Kircus – Starred review
www.kirkusreviews.com